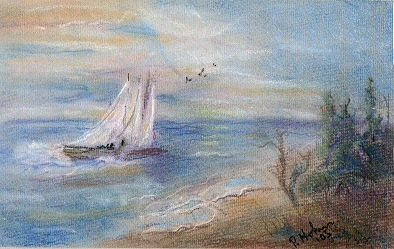 The above painting, Ipperwash Sails, by P. Holmes, was painted with pastels on Canstons pastel paper. Size is 9x13".
Almost there beyond the sky
Heaven's glory way on high
Beauty that's beyond compare
Close your eyes and you are there

Feel the air so clean and pure
Touched by spirit's gentle lure
To be within a place of peace
Heaven's glory now released



Calm that fills the heart alone
Yet filled by glory that you own
Within this gift in life we share
Precious joy that takes us there

Reaching for the height of life
Setting free the pain and strife
Within this moment you are blest
In silence you are welcome guest



Bringing joy in peaceful way
Spirits joined in life to pray
Seeking love that's never far
Just because of where you are

Precious life that fills your soul
Place we reach will make us whole
Glory be the love that binds
Within the height of all mankind.


~ Francine Pucillo ~
Šused with permission
Read more of her poetry here.

Home Links Artist Concepts Galleries About Artist Mail
Follow the above titles to navigate this site and to view the art of P Holmes. To view where her art is mentioned in other sites follow the links below.

Fine Art Galleries related Directory
Art in Canada In the Search box select Canadian Artists then enter Pegatha Art.